i babysat tonight for 2 of the greatest kids ever! it was so good and so refreshing. logan is 7 and he has a learning disability with some autistic tendencies. the parents just found out recently that he will never obtain the skills above a third grade level. i've known this family for years, even before they ever had kids. since logan was a baby, they've always known things weren't normal with him. he had glasses as a two year old and i remember thinking he looked like the kid from jerry maguire (you know, "the human head weighs 8 lbs" kid). despite his disabilities, he's so sweet and full of love, giving hugs freely whenever he feels like it. i walked up to the front door and he was standing there waiting to greet me with a huge hug.
molly is 4 and she's just absolutely adorable. she jumped up and down when i walked in and was so excited. it really surprised me because it's been over a year ago since i watched these kids. i see them regularly because they're related to brooke, but i was still taken back by how excited they were that i was their sitter for the night.
so pizza was ordered, coloring book pages were colored, bracelets were made,
brother bear
was watched, and popcorn was eaten. a great time was had by all.
i forget how great four year olds are. they're young enough to still want to cuddle up with you on the couch. they're still young enough to admit the big bear on tv is a little scary as they snuggle in a little closer to you for protection. but they're grown up and independent enough to pour their own drink, help put dishes away (in the bottom cabinets), and stay up late (even if their eyes are getting very heavy). i was reminded of what it was like to be that age and be so carefree.
logan spent most of the night watching basketball. and when there's a game on, there's no pulling him away from the tv. he might not know normal 7 year old stuff, but he can name his favorite basketball team lineups and tell you all about their latest games. while logan watched his game, i colored with molly. it was probably my favorite part of the evening. first we had to "color a picture for her so she could remember me" (her words). then she decided that i had to have one to take home with me too. and the next time i babysit, i'm expected to take it back to her and trade. :) i'm guessing that it will bond our friendship. i love four year old minds.
anyway, it was a great way to spend my saturday night. i can't wait to do it again. very good for the soul.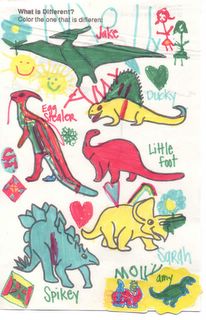 here's the picture we colored for me. notice the extra detail that's not part of the regular picture. i love it! after we got done, she wanted to name the dinosaurs. i'm pretty sure she was thinking about little foot and his friends and their adventures in the millions of land before time movies, but it's cute nonetheless. egg stealer is the rainbow colored dino. he has a twizzler sticking out of his mouth. oh yeah...that's me up in the corner. i'm green and i'm wearing a skirt. be sure to click on it for the full effect of the other surprises hidden within the picture.