i totally forgot about
the gates
! how could i have forgotten?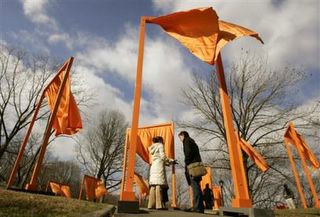 i read a few months ago that christo and jeanne-claude were working on their new project the gates. it opened today. i first fell in love with their work when i was taking an art history class my first semester of college. one of my favorites was
the umbrellas
. i actually was so interested in their work that i did some research outside of class and found that i enjoyed
other projects
by them as well (yeah, some of them are a little strange). but the whole idea of the gates is just beautiful to me. imagine new york's central park (yeah, so i've never been there, but...) in february. drab and dull...then all of a sudden, it's made beautiful, almost like an early springtime. okay, so maybe i'm a lot more excited than you are, but man, check out this stuff...i love it!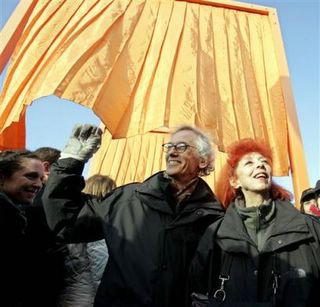 on jan 22, 2003 the mayor of new york city, announced that the city has given permission to artists christo and jeanne-claude to use central park as a work of art.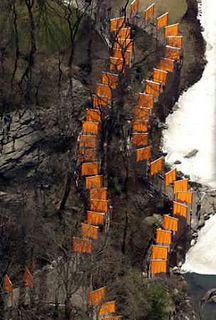 there are 7500 gates, 16 feet high with a width varying from 5' 6" to 18 feet will line the walkways of the park over the 23 miles of footpaths. free hanging orange colored fabric panels fall from the horizontal part of the top of the gates. the gates is scheduled for february 2005, to remain for 16 days, then the 7,500 Gates shall be removed and the materials will be recycled. (from
www.christojeanneclaude.com
)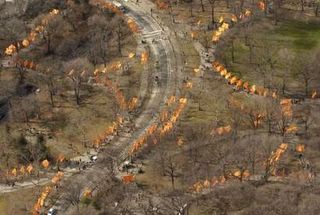 the materials which will be recycled, include:
• 5,290 tons of steel (equal to 2/3 the steel in the eiffel tower) for the 15,000 specially designed steel footing weights, varying between 615 and 837 pounds each, according to the width of the gate. the gates vary in width because there are 25 different widths of walkways in central park. the weights are resting on the hard surface of the walkways and won't leave holes in central park.
• 315,491 linear feet (60 miles) of vinyl tube, 5 inch x 5 inch square, (12,7 x 12,7 cm.) extruded in saffron color, recyclable, specially designed, (for each gate: 2 vertical 16 feet long, and one horizontal (varying between 6 and 18 feet, because the width of the walkways varies)
• 15,000 specially designed, recyclable, cast aluminum upper corner reinforcements which hold together the 2 vertical poles to the horizontal pole.
• 15,000 base anchor sleeves. Which will be bolted to the steel footing weights.
• 15,000 (1/2 inch x 8 inch x 8 inch) steel leveling plates. the leveling plate is between the base anchor sleeve and the steel base, it has a pivoting bolt which will ensure the perfect verticality of the poles, even when the walkways are inclined.
• 165,000 bolts and self locking nuts.
• 15,000 (8 x 8 x 8 inch) vinyl leveling plate covers, to hide the bolts.
• 116,389 miles of nylon thread specially woven into 1,067,330 square feet of recyclable, rip-stop fabric,that were cut and sewn into 7,500 fabric panels of various widths. 46 miles of hems.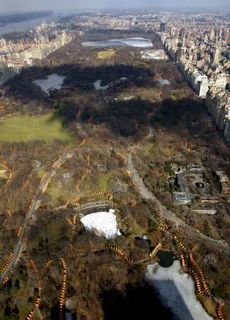 the gates will remain in central park for 16 days, then the removal will start. so, who's going to take me to new york before the 27th????