i just received a letter from the lady in charge of char. farms, my site from last summer. there were 5 precious brothers who won my heart over from the beginning of last summer. reynaldo, ravonte, kristin, quan, and travis were the sweetest boys. they had a lot of questions about God, and i loved talking to them and playing with them and just getting to know them better. reynaldo was the oldest one at the site (he was 13) and kristin and ravonte were next, and they were always trying to watch out for the younger ones, especially their little brothers. i was so excited to get the letter from ms. connie, until i read this.
"do you remember reynaldo, ravonte, kristin, quan, and travis? they have lost their mother. it happened around two weeks ago. i haven't seen them since, but i took a sympathy card over to their house. just keep them all in your prayers."
it absolutely broke my heart. i can't imagine what those boys must be going through. i'm sure this leaves them with a bunch of unanswered questions. i just pray that this brings them closer to the truth and that it doesn't push them away. please keep these boys in your prayers.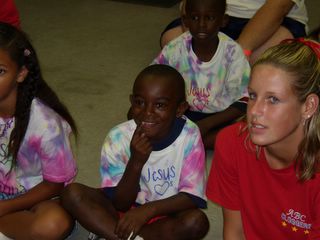 travis
watching a skit
quan
and
kristin
, with timothy
ravonte
and a camper
quan
with his snow cone
reynaldo
and me the last week of camp.