friday night, brooke and i ventured to southern indiana to hang out with one of my best friends from high school. it was fun. he took us to dinner, then we went to the movies, then back to his house to hang out. we sat around talking about crazy stuff...old tv commercials, the old drive in that was torn down when i was about 5, music, old tv shows, movies...it was great. he's one of the few people i still talk to from high school and it's fun because even though so much has changed in both of our lives since then, there's still something there that connects us even when we don't talk for a long time.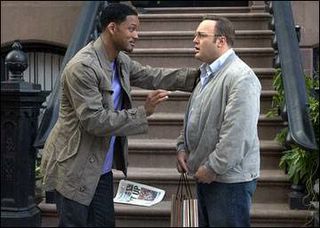 friday night we helped contribute to hitch being at the top of the box office grossing over 45.3 million dollars. what can i say, the trailer was so hillarious i was laughing every time it was on tv. so...i decided we should go see it.
yeah, it might be getting a lot of attention because it opened valentine's day weekend, and it's your predictable romantic comedy. but will smith and kevin james deliever likeable characters and some pretty funny moments. even the parts in the trailer that were funny weren't a disappointment...they were actually funnier in context. plus it's not one of those movies that shows all the funniest parts in the trailer only to disappoint you when you go see it. it's not the greatest movie ever, but i'd definitely recommend it.
saturday i was cleaning my room and matt called to see if i wanted to meet him and john at wendy's. they were passing through town on their way home from a conference and they wanted to stop and eat. lucky me! it was fun hanging out with both of them (even though it was a short time). it's been a while since i've been around them together. fun times! great surprises!